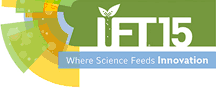 IFT AMFE
JULY 11-14, 2015
McCormick Place South, Chicago, IL
Get a first-hand look at the latest trends, the newest products, and the most recent innovations driving food science, and meet the people leading these advances — more than 23,000 top food science and technology professionals from more than 90 countries, representing the most prominent organizations in the global food sector. Join us to discover the industry's best science, strategies, and solutions to inform your work and improve your business.
Reserve your advertising space with Southern California IFT!
SCiftS is now accepting newsletter and website advertisements for our 2015-2016 year. Newsletter ads will be published in all ten issues (September 2015 through June 2016) of our organization's newsletter sent to approximately 1,600 members of the food industry. Additional copies of the newsletter are distributed to thousands of exhibitors and attendees at our annual Suppliers' Night Expo. Reserve early, as advertising space sells out quickly!
Advertising space on Southern California IFT's website is available at an additional cost to all companies who reserve ad space in our newsletter. Due to significant interest in advertising with the SCiftS organization - and limited available space - payment-in-full with a completed Authorization Form must be received before placement of any advertisement may be guaranteed. Ad placement requests are honored on a first come, first serve basis.
Advertising with Southern California IFT is an excellent way to promote your company, as well as to show your support of vital food industry programs!
Click here to download 2015-2016 Advertising Packet.