SUPPLIER`S NIGHT EXPO
March 8, 2017
3:30 p.m. to 8:00 p.m.
Disneyland Hotel Exhibition Hall
Anaheim, CA
Southern California Institute of Food Technologists invites you to participate in the 2017 SCiftS Supplier`s Night Expo. The 2017 Supplier`s Night Expo will be held Wednesday, March 8, 2017 from 3:30 p.m. until 8:00 p.m. at the Disneyland Hotel Exhibition Hall. The Disneyland Hotel Exhibition Hall is extremely limited in space.

Due to the requirements of the Anaheim Fire Marshall, only 6 foot tables will be used at Supplier`s Night at this venue.

In order to accommodate our vendors and all attendees, we have arranged for Supplier`s Night Expo to have a specific lot and direct Shuttle Service to and from the Disneyland Hotel Exhibition Hall.

The Southern California IFT Supplier`s Night Expo is an active, vibrant show that provides an audience of exceptional quality for our Exhibitors, and produces quality contacts. We bring real decision makers to the exhibit floor. We are planning a very aggressive marketing program again this year to increase our attendance. We market professionals from the food service, dairy, meat, seafood, bakery, nutraceutical and pharmaceutical industries specifically. In addition to being the industry show where professionals in the Western states go to discover the latest ingredients and new concepts, we pursue those customers and markets our exhibitors wish to see. Our primary goal is to make you successful as a vendor.

Since we had a large waiting list at our last show, we suggest you purchase your tabletop as soon as possible.

Click here to download the 2017 Exhibitor Packet

Click here register and pay online.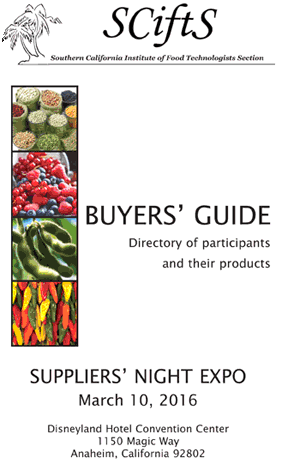 The Southern California IFT Suppliers' Night Expo was a successful event.
Thank you to our sponsors for their support.
GOLD SPONSOR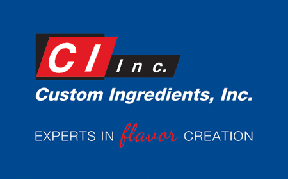 SILVER SPONSORS














BRONZE SPONSOR






REGISTRATION DESK SPONSOR

SHUTTLE SERVICE SPONSOR

LANYARD SPONSOR

We appreciate your participation and look forward to seeing you at
SCiftS' 2017 Suppliers' Night Expo!