ATTENDEES ONLY
Click here to register and get your badge emailed to you.
DO NOT REGISTER HERE IF YOU ARE AN EXHIBITOR.
SUPPLIER`S NIGHT EXPO
March 6, 2019
3:30 p.m. to 8:00 p.m.
Disneyland Hotel Exhibition Hall
Anaheim, CA
Exhibitor Tabletops are SOLD OUT!
Contact SCIFTS Office at 714.282.0919 to be put on the waiting list
Southern California Institute of Food Technologists invites you to participate in the 2019 SCiftS Suppliers Night Expo. The 2019 Supplier`s Night Expo will be held Wednesday, March 6, 2019 from 3:30 p.m. until 8:00 p.m. at the Disneyland Hotel Exhibition Hall.

The annual Southern California IFT event where those in industry — including professionals in Marketing, Manufacturing, Distribution, Production, QC, Packaging, Sales, QA, Sanitation, Lab Support, Technical, R&D, Nutraceutical and all other related fields — go to learn and network.

Discover the latest ingredients, new concepts and unique products!

Southern California IFT raises money to fund scholarships and grants for Food Science students, and provides vital educational grants to universities with Food Science programs. Suppliers Night Expo is the most important financial building event of the year for our organization. The future success of SCiftS is closely linked to the support and attendance at Suppliers Night Expo by our members and others. To support the Section's many activities, we need the continued support of those working for food manufacturing and other food industry related companies. We strongly urge you to not only attend this important event, but to bring your friends and co-workers.

We appreciate your participation and look forward to seeing you at SCiftS 2018 Supplier`s Night Expo!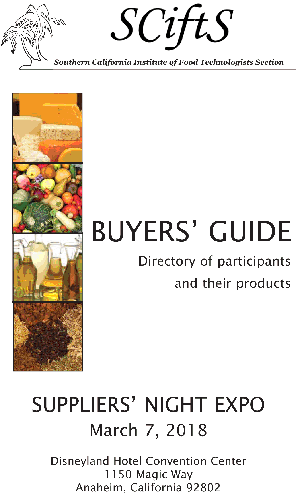 The Southern California IFT Suppliers' Night Expo was a successful event.
Thank you to our sponsors for their support.
GOLD SPONSOR

SILVER SPONSORS




















BRONZE SPONSOR







REGISTRATION DESK SPONSOR

PHOTO BOOTH SPONSOR

LANYARD SPONSOR

We appreciate your participation and look forward to seeing you at
SCiftS' 2019 Suppliers' Night Expo!