"TO FULFILL HUMAN NEEDS FOR A QUALITY FOOD SUPPLY THROUGH SCIENCE, TECHNOLOGY AND EDUCATION."
This is the mission of the Southern California Institute of Food Technologists Section, and of its members. In keeping with this mission, SCIFTS is proud to bring you the latest advance in OUR journey toward its fulfillment.
OCTOBER DINNER MEETING
DATE:
October 18, 2023
LOCATION:
Hyatt Regency Orange County
11999 Harbor Blvd.
Garden Grove, CA92840
Directions
TIME:
4:30 – Executive Meeting
5:30 – Networking
6:00 – Dinner and 3MT Contest
Chapman University Schmid College of Science and Technology presents Student Research Poster Showcase on October 18 from 3:00 pm to 5:00 pm. The poster showcase will feature student and faculty researchers from Southern California Food Science and Nutrition programs. Chapman University will also offer a tour of Food Science Keck Laboratory.
The SCIFTS dinner meeting will include the Student 3MT Pitch Contest.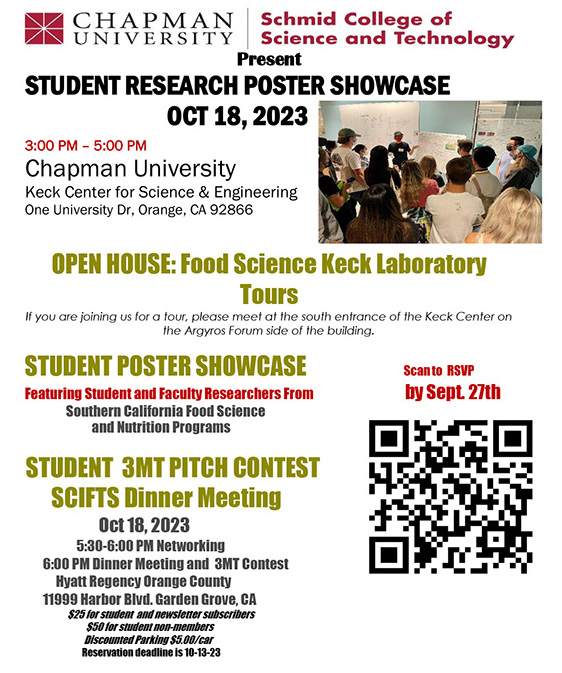 Click here to make your reservation and pay at the door.
| Dinner Meeting | Price |
| --- | --- |
| Member with Reservation: | $40.00 |
| Emeritus Member with Reservation: | $25.00 |
| Student Member with Reservation: | $25.00 |
| Non-Member with Reservation: | $50.00 |
$5.00 Discount with Cash/Check Payment at Door
MEMBERSHIP:
The Institute of Food Technologists (IFT), the national organization, was founded in 1939 as a non-profit society. Today, this proactive scientific and educational organization has over 13,000 members working in food science, technology, nutrition and related professions in industry, academia and government. As the authoritative voice of food science and technology, IFT brings sound science to the public discussion of food issues.
The Southern California Institute of Food Technologists (SCIFTS) is one of the largest sections of the international society of professional food personnel involved or interested in any of the various aspects of the field of food.
Whether you are a food technologist, researcher, scientist, engineer, executive, administrator, educator, author, marketer, consultant, student, or salesperson, there is a place for you in this multi-faceted organization.
SUBSCRIBER:
If you are not a member of IFT, but wish to receive the SCIFTS Newsletter, purchase an annual subscription. and receive the 10 issue annual newsletter.
Subscription Costs:
$ 25.00 – Regular subscription
$ 20.00 – Senior subscription (65+ years old)
$ 15.00 – Student subscription
Subscribers will also receive special pricing at local SCIFTS events.
Dinner Meetings:
Non-Member Dinner Price is $50.00*
Subscribers will receive a discount on the Non-Member Dinner Meeting price as follows:
Regular – discount of $10.00 (Subscriber price $40.00*)
Senior 65+ – discount of $25.00 (Subscriber price $25.00*)
Student – discount of $25.00 (Subscriber price $25.00*)
*$5.00 Discount with Cash/Check Payment at Door