2016 IFT Annual Meeting and Expo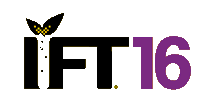 DATE:
July 16 - 19, 2016

Location:
McCormick Place
South Chicago, IL USA

This is the only annual event that brings together the brightest minds and the most respected food professionals from around the world - in industry, government, and academia - for knowledge exchange, networking, and problem solving.
From trendsetters in product development to senior level executives from the world`s top food companies to department heads from leading universities, you`ll find the people you want to meet at IFT16.
Reserve your advertising space with Southern California IFT!
SCiftS is now accepting newsletter and website advertisements for our 2016-2017 year. Newsletter ads will be published in all ten issues (September 2016 through June 2017) of our organization's newsletter sent to approximately 1,600 members of the food industry. Additional copies of the newsletter are distributed to thousands of exhibitors and attendees at our annual Suppliers' Night Expo. Reserve early, as advertising space sells out quickly!
Advertising space on Southern California IFT's website is available at an additional cost to all companies who reserve ad space in our newsletter. Due to significant interest in advertising with the SCiftS organization - and limited available space - payment-in-full with a completed Authorization Form must be received before placement of any advertisement may be guaranteed. Ad placement requests are honored on a first come, first serve basis.
Advertising with Southern California IFT is an excellent way to promote your company, as well as to show your support of vital food industry programs!
Click here to download 2016-2017 Advertising Packet.
UPCOMING EVENTS
July 16-19
IFT AMFE
Chicago
IL
September 21, 2016
Dinner Meeting
94th Aero Squadron
Van Nuys
October 19, 2016
Dinner Meeting
TBD
TBD
THANK YOU to our Advertisers
Southern California Institute of Food Technologists Section | P.O. Box 3724, Orange, CA 92857 | 714.282.0919
www.scifts.net | scifts@pacbell.net